Biography
Prior to joining UMass Lowell, Oda was an associate professor in the Department of Digital Art and Design at the New York Institute of Technology. Her artwork has been exhibited at SIGGRAPH Asia 2016 (Macao), Dumbo Arts Festival (NY), Cavin Morris Gallery (NY), Beijing Today Art Museum, Maki Fine Arts (Tokyo), Annemarie Sculpture Garden and Art Center (MD), the Rhode Island School of Design Museum, among others. Oda's animation, "Take Off" was a finalist in the international animation competition "Artport: Cool Stories for When the Planet Gets Hot," and screened internationally at the Film Society of Lincoln Center in New York, DIA Center (NY), Art Supermarket (Stockholm), Art Miami Basel (FL), Bridge Art Fair (NY), Diva Art Fair (Paris) and Scope Art Fair (Basel/NY). Oda was an artist resident at the Vermont Studio Center, Chashama North, Goetemann Residency, and Byrdcliffe Artist Residency.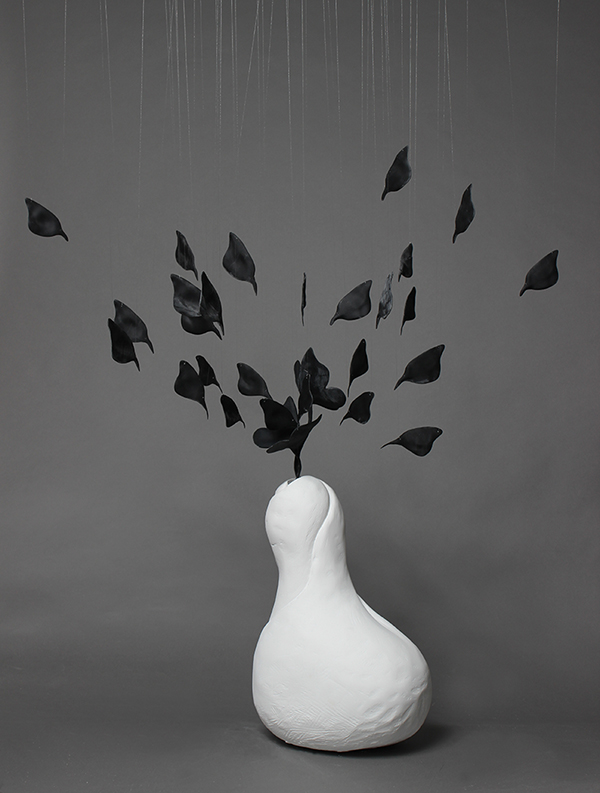 Darkness Meets Light
Installation
"Darkness Meets Light"
is a digital sculpture installation that explores the intersection of technology with fine art, bringing together traditional and digital methodologies in one piece.
The base of the sculpture, an organic form that resembles a cocoon, is carved plaster.
This structure serves as the landing, birthplace, and home for the black 3D-printed butterfly wing-like forms swarming on and out of its crevice.
These black forms embody a frozen moment of contrasting energies; they are both emitting out and pointing into their origin.