Biography
NONE is an artistic collective based in Rome that moves along the boundaries of art, design and technological research. It was founded by Gregorio De Luca Comandini, Mauro Pace, and Saverio Villirillo.
NONE creates artworks, interactive installations, ground-breaking architectures, digital devices, and immersive environments for exhibitions, museums, and events.
NONE builds experiences investigating the human dimension, machines exploring the physical space, the event flow and the unconscious.
SELECTED PROJECTS
2018
NO STRATA (site specific installation) 02/10/2018 – 30/01/2019 – project curated by MADAI art – Farol Santander – Sao Paulo (Br)
GENESI (site specific installation) 27/09 – 07/10/2018 – Romaeuropa Festival – Sala Santa Rita, Rome (It)
Meraviglia! Italian Pavilion of 71Th Cannes Film Festival – Istituto Luce Cinecittà – Cannes (Fr)
Metabole (permanent installation), Palazzo di Giustizia – Comune di Firenze – Firenze (It)
The Brilliant Side Of Us, Melissa, Erastudio Apartment Gallery – Fuori Salone – Milano (It)
J3RR1 (artwork), "Human+ Il futuro della nostra specie" | "Umano, Sovrumano" – Palazzo delle Esposizioni – 27/02 – 01/07/2018 – Rome (It)
2017
GENESI, Blooming Festival, Chiesa Santa Maria delle Tinte– Pergola (It)
The Brilliant Side Of Us – Italian Pavilion of 70Th Cannes Film Festival – Istituto Luce Cinecittà – Cannes (Fr)
2016
Deep Dream – Digitalife 2016 – Romaeuropa Festival – Macro Testaccio – Rome (It)
Universo Elegante, Italian Pavilion of 69Th Cannes Film Festival – Istituto Luce Cinecittà – Cannes (Fr)
2015
Società liquida, Outdoor Festival 2015, Rome (It)
2014
Frozen Nature, Digitalife 2012 – Fondazione Romaeuropa, Ex GIL, Rome (It)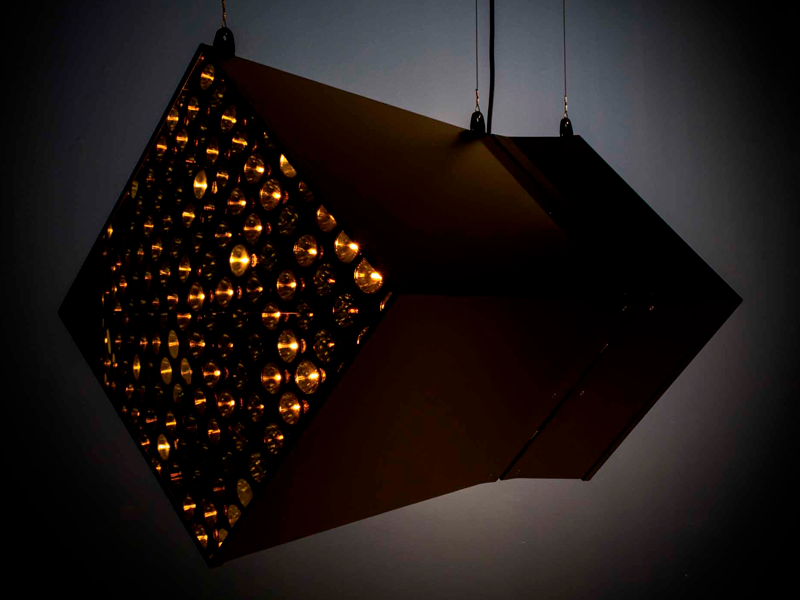 J3RR1
Installation
J3RR1 is a normal machine, like many others.
J3RR1 is a computer programmed to carry out a constant stress test, namely a hardware performance test, a benchmark.
J3RR1 shows no hesitation when it comes to what it has been programmed for, as it forces itself to test and constantly improve its performance without knowing what the purpose and meaning of its work is.
Just like in a medical examination, the basic vital parameters (CPU, RAM, disk) of J3RR1 are constantly monitored and connected to a device that translates them into sound and light impulses. We are accustomed to considering machines as cold and algid, but when standing before J3RR1, viewers can feel the heat and energy of the 25 75-watt halogen lamps (1875 watts in total) that warm them up, whereas the sound produced by the 25 solenoids that hit the aluminium sheets which the machine is composed of highlights the clarity of a command that cannot be disregarded.
Can one feel empathy towards a machine?
"When observing J3RR1, we see our own reflection – the artists say – inside this mirrored quadrisphere. A discourse between the 'machine-patient' and the human-observer is thus established, the latter being able to experience the performance anxiety caused by a life spent trying to improve oneself without remembering the rationale behind such strain and waste of energy.
After all, it is a subjective matter: some feel empathy towards plants, others believe that even rocks have souls. What are our feelings towards a machine?"
NONE collective continues its investigation into human nature and the machines that explore physical and virtual space as well as the subconscious. Moreover, it uses technology to reflect upon the daily routine of human beings not from an anthropocentric standpoint, but rather providing the audience with food for thought on the present and the near future.