Biography
Slovenian Artists Nika Oblak and Primõz Novak have explored the seductive appeal of media and the promotion of personal ambition in capitalist society in work where they often place themselves at the centre of the piece. Working together since 2002, they use the mediums, techniques and visual languages of advertising while experimenting with new ways of working with photography, video, installation, film, computer or robotics.
They have exhibited widely with solo exhibitions at Catalyst Arts, Belfast, Northern Ireland (2009); Moerenhalle, Dresden, Germany (2009) and the spoof Saatchi Collection shown in Slovenia, Germany, Bulgaria and Serbia (2007-08). They have been included in group exhibitions at the Museu da Cidade, Lisbon, Portugal (2010); Japan Media Arts Festival, Tokyo, Japan (2010); the Biennale Cuvee, Linz, Austria (2010); the Sharjah Biennial (2009); Alexandria Biennale for Mediterranean Countries, Egypt (2009); Kasseler DokFest, KulturBahnhof, Kassel, Germany (2009); MOVE – New European Media Art, Halle, Germany (2009); the Biennial of Graphic Arts, Ljubljana, Slovenia (2009); Busan International Video Festival, Busan, South Korea (2008) and International Sarajevo Winter Video-Salon 3, Sarajevo, Bosnia and Herzegovina (2008).
Nika Oblak was born in Slovenia in 1975. She attended the Academy of Fine Arts in Ljubljana and graduated with a BA in painting (2002) and with an MFA in video (2005). Primõz Novak was born in Slovenia in 1973 and also graduated from the Academy of Fine Arts in Ljubljana with a BA (2002) and MFA (2006), both in sculpture. The Artists currently live and work in Ljubljana.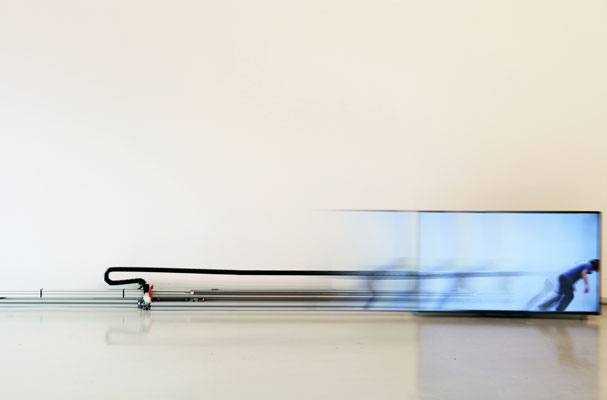 Border mover
Installation

Border Mover is dealing with contemporary individual being trapped by overwhelming technology and routine of our everyday existence, which more and more resembles monotony of operating machines. It is playing with ideas of physical and psychical boundaries as the consequence of capitalistic, neoliberal globalization, where it seems dreams are impossible and that a different world cannot exist.