Biography
Matt Kenyon is a new media artist and designer. Kenyon's work has been exhibited nationally and internationally in such venues as the Museum of Modern Art, New York, MOCAD Detroit, Science Gallery Dublin, Centre de Cultura Contemporània de Barcelona, and the International Print Center. He has been a TED Fellow, a MacDowell Fellow, and his work has been awarded the FILE Prix Lux. His work has been featured in The New York Times, Wired, and Gizmodo, and has also appeared in edited volumes such as A Touch of Code (Gestalten Press) and Adversarial Design (MIT Press). He lives and works in Buffalo, New York, where he is an Associate Professor in the Department of Art at the University at Buffalo, and part of PLATFORM, UB's socially engaged design studio.
ARTWORK
TIDE
Installation
TIDE (2020) Champagne glass pyramid, casts of houses, custom electronics By contrasting the opulent image of a champagne glass pyramid with the crisis of climate change and rising flood risk, Tide creates a visual metaphor for the fragility hidden within the current housing market. This crisis is already part of the lexicon—when someone owes more than a house is worth, people say the mortgage is "underwater." Over the course of the show, the slow drip will gradually fill the pyramid, flooding the interconnected glasses and making the houses invisible. Through the fluctuating visibility of these houses, Tide calls attention to the way climate change continues to create uncertainty in neighborhoods, long after the news cycle has moved on from each individual extreme weather event.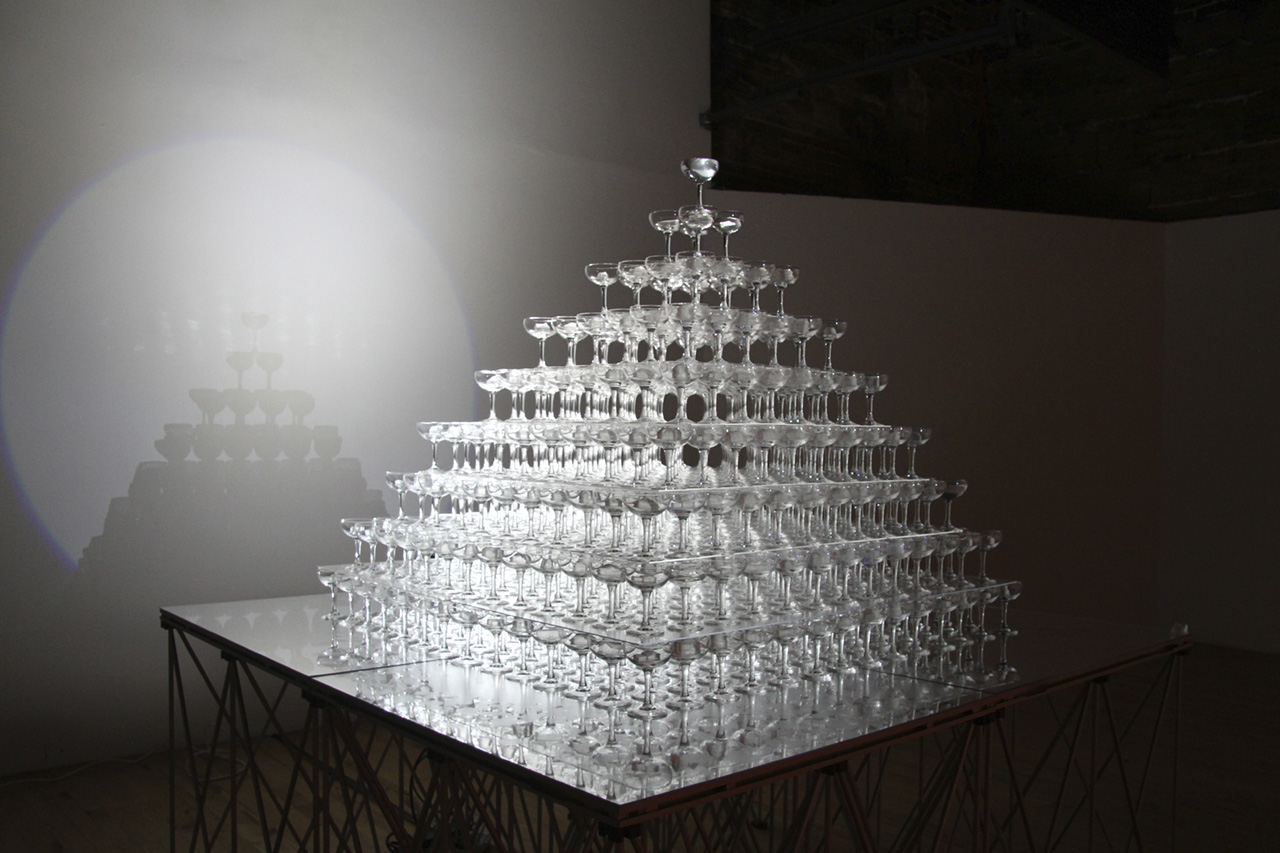 CLOUD
Installation
Cloud demonstrates the cyclic nature of real estate speculation that prospers even in the wake of the 2008 housing crash. The cloud houses, and the aspirations they represent, rise to form a subdivision on the ceiling of the gallery. Over time, the foam breaks down and the houses eventually collapse. House clouds are released based on housing value trends from the area to return these complex systems back to a human scale. Cloud can also be wheeled into a neighborhood as a form of community protest or an SOS signal.
Links to artworks:
Tide
https://www.swamp.nu/projects/tide