Biography
Juan Rey is an Artist and Teacher.
He was born in Buenos Aires, 1978.
Studied education at the National School of Fine Arts Rogelio Yrurtia and he graduated as a teacher at the National School of Fine Arts Prilidiano Pueyrredón.
Between 2000 and 2005 he was part of the Pornois audiovisual collective.
Since 2009 he participates in projects and exhibitions among which are:
– "Automatic Moving Company (AMC)" / Recoleta Cultural Center, Buenos Aires / Emilio Caraffa Museum, Córdoba/ Stuttgarter FilmWinter Festival, Stuttgart, Germany. (2009-2010)
– "Líder" / Old Railway Station, Puerto Madryn, Chubut.(2010)
– "El Estudio". Cultural Center of Spain, Buenos Aires, Buenos Aires.(2011)
– "Torre". Culture y Media, General San Martín Cultural Center, Buenos Aires.(2011)
– "Resistor 10K". FotoGaleria 10 Años, FotoGalería Córdoba National University. (2011)
– "Aprender del camarada Lei Feng" Open Lab, Espacio Fundación Telefónica, Buenos Aires./ 404 Art and technology festival, Rosario. (2012)
He participated with videos in festivals in Australia, Spain, Russia, Poland, Serbia, Cuba and Greece among others.
He received the Audience Award in the category Expanded-Media for "Automatic Moving Company (AMC)" on 23 Stuttgarter Filmwinter Festival, Stuttgart, Germany.
In 2011 he was part of the program Interactivos en el Espacio Fundación Telefónica and of the Media Production Lab CCEBA. During 2012 he was an agent in the Arts Research Center (CIA).
In 2013 receives the Grand Prix Acquisition in the Visual Arts National Hall in the category New Media and Installations.
His works ponder about energy, the circulation of knowledge and the social environment.
He lives and works between Parque Avellaneda and Mataderos in the City of Buenos Aires.
ARTWORK
"Circuitos y correspondencias"
Juan Rey
Argentina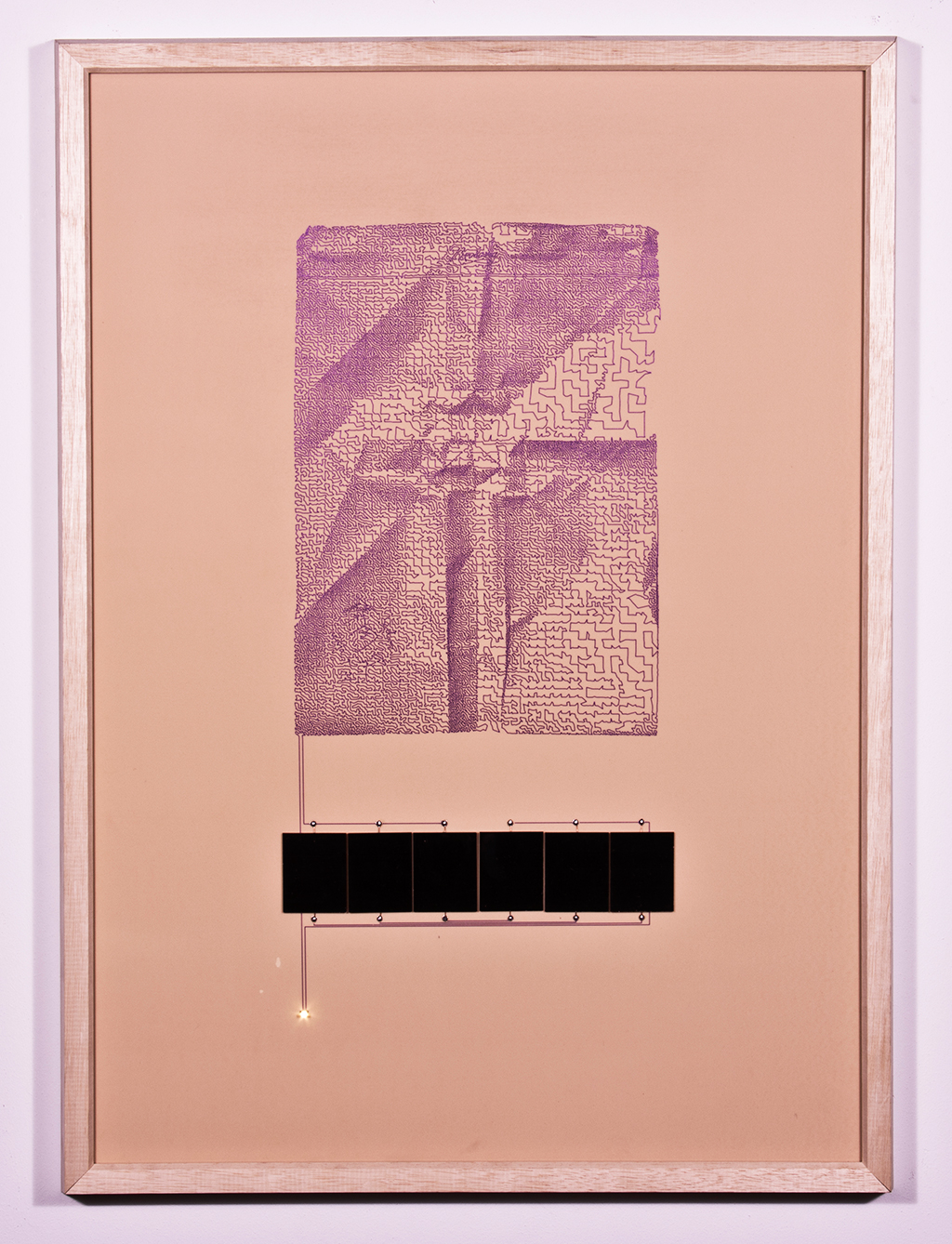 ARTWORK DESCRIPTION:
Correo Aéreo (Air Mail) is a group of works that propose a reflection about the circulation of knowledge and the transformation of energy. It arises from the postal exchange with artists, academics and technicians from different countries.
The author of the project sends by post mail an envelope with a white paper to people in different parts of the globe. The artists, academics and technicians invited, will response the letter by sending a paper plane made in that white paper.
Based on the received airplanes and, through a process which combines techniques y procedures of the visual arts, the production of photovoltaics energy and the creation of electronic devises, it will be developed at least 8 artworks that will conform an art show.
"I invite someone to fold a paper, then I unfold it. I take a photography and I get the digital coordinates. The image that emerges is not a random trail, rather it is configured as a visible point on a circuit of relationships. I'm seeking that the relationship between those points becomes a path.
I ask the guest to fold consciousness, like posing for a portrait.
Perhaps, unfolding the idea, we could make that among us the knowledge to circulate too."
This is how this group of artworks is constituted as an artistic device, a staging consisting of circuits of different nature.
One, that of social relationships, a complex path that ideas face to circulate in the field of visual arts.
The other, the electronic itself, in which the transformation of energy manifests itself physically.
Together they create a performatic social situation, in which a series of objects that are able to generate their own energy*, are exhibited as a metaphor of the relation between device and substance encouraging the process of subjectivisation in order to become in artistic work.
* Without connecting to any other electronic device or electrical network.
Objectives:
Promote the creation of artworks through the use of technics and unconventional procedures that reflect over new artistic practices.
Inquire onto the functional, esthetic and symbolic aspects of the electronic industry applied to the visual arts.
Generate a space to debate about the circulation of ideas in the artistic and social media, encouraging the collaborative and interdisciplinary work during the artwork development.
Form a group of interactive works, which are developed from the exchange between artists, theorists and technicians of various nationalities.
Promote the use of renewable energies in artistic productions.
Among those invited to join the epistolary dialogue they are confirmed:
Luis Camnitzer (Uruguay)
Artist, critic, teacher and Uruguayan theorist born in Germany and living in USA since 1964.
Jason Lee (Taiwan)
Technologic Art Engineer, PhD student at the National University of Taipei at the Institute of Electrical and Mechanical Technology. He addresses the digital art and interactive promotion of arts education.
Sadam Fujioka (Japan)
Artist, sound programmer, PhD Design. He is founder of the Creative Lab AnnoLab. His work focuses on new software tools for live performance, sound systems, minimal music.
Craig Kaplan (Canada)
Mathematician and Doctorate in Computer Graphics Software Researcher and Engineering at the University of Washington. Creator of the code used to design the circuits.
All sessions by Juan Rey