Biography
John Craig Freeman is a public artist with over twenty-five years of experience using emergent technologies to produce large-scale public work at sites where the forces of globalization are impacting the lives of individuals in local communities. With his work, Freeman seeks to expand the notion of public by exploring how digital networked technology is transforming our sense of place. Freeman is a founding member of the international artists collective Manifest.AR and he has produced work and exhibited around the world including in London, Mexico City, Calgary, Havana, Kaliningrad, Warsaw, Zurich, Belfast, Venice, Istanbul, Copenhagen, Milano, Sydney, Singapore, Liverpool, Coimbra, Basel, Paris, across America as well as Beijing, Xi'an, Wuhan and Hong Kong. In 2016 he traveled to Wuhan China as part of the ZERO1 American Arts Incubator. In 2015, he was the recipient of a commission from the Los Angeles County Museum of Art's Art + Technology program. He has also had work commissioned by Rhizome.org and Turbulence.org and he was awarded one of the last Individual Artist Fellowships by the NEA in 1992. His work has been reviewed in The New York Times, El Pais, Liberation, Wired News, Artforum, Ten-8, Z Magazine, Afterimage, Photo Metro, New Art Examiner, Time, Harper's and Der Spiegel. Christiane Paul cites Freeman's work in her book Digital Art, as does Lucy Lippard in the Lure of the Local, and Margot Lovejoy in Digital Currents: Art in the Electronic Age. His writing has been published in Rhizomes, Leonardo, the Journal of Visual Culture, and Exposure. Freeman received a Bachelor of Art degree from the University of California, San Diego in 1986 and a Master of Fine Arts degree from the University of Colorado, Boulder in 1990. He is currently a Professor of New Media Art at Emerson College in Boston. Freeman writes, "If Andy Warhol set out to create a distinctly American art form in the twentieth century, I identify with those who seek to create a distinctly global art form in the twenty-first."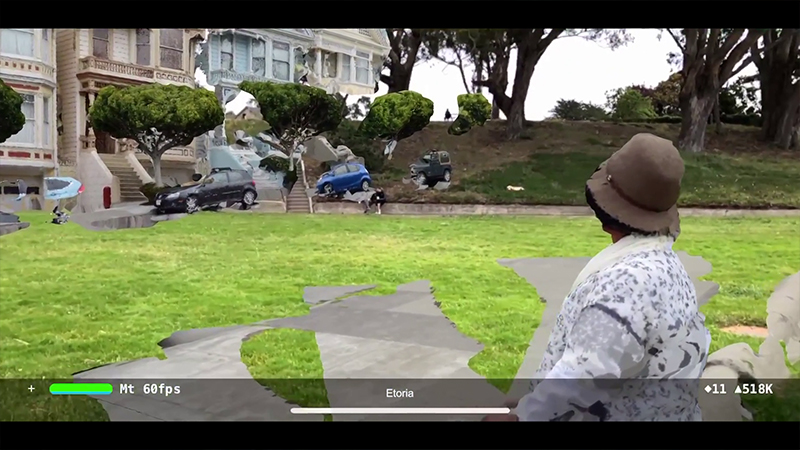 Coming Home
An immersive augmented reality public art installation created by John Craig Freeman, with audio by SOUND MADE PUBLIC, Produced by Lava Mae and ZERO1.
Coming Home, is a walk through augmented reality experience connecting the people of San Francisco across the housing divide.
Today San Francisco finds itself embodying both the best of human capacity and the worst. Our unrelenting crisis around housing insecurity and the houseless has come to define us as sharply as our innovation and entrepreneurship.
Most of us know little about our unhoused neighbors – those we see and the many more who are invisible – their stories or what's required to navigate these challenging circumstances. In Coming Home, you'll meet a full range of people and hear their stories – from life on the street to holding a job, as a student or an elder, and from the point of view of those who have successfully moved beyond what is, for most, a temporary situation. And you'll experience how we are more alike than we are different.