Biography
Jeffu Warmouth was born in San Diego, California in 1970. He received a BA from the University
of Michigan in 1992, and an MFA from the School of the Museum of Fine Arts / Tufts University
in 1997. He lives in Groton, MA and works in Fitchburg, MA, where he is Professor of
Communications Media at Fitchburg State University.
Warmouth's work has been exhibited and screened internationally, including the DeCordova
Museum (Lincoln, MA), John Michael Kohler Arts Center (Sheboygan, WI), Boston Center for the
Arts (Boston, MA), The Art Complex Museum (Duxbury, MA), Art Interactive (Cambridge, MA),
Green Street Gallery (Boston, MA), SHOW Gallery (New York, NY), Tufts University (Medford,
MA), Pittsburg State University (Pittsburg, KS), University of Massachusetts (Lowell & Amherst,
MA), Children's Hospital (Boston, MA), Kaunas Photo Festival (Kaunas, Lithuania), MicroCineFest
(Baltimore, MD), Brainwash Film Festival (Oakland, CA), Boston Cyberarts Gallery, and the
Experimenta Media Arts Tour (originating in Melbourne, Australia). In 2014, the Fitchburg Art
Museum in Fitchburg, MA featured Warmouth's mid-career retrospective Jeffu Warmouth: NO
MORE FUNNY STUFF.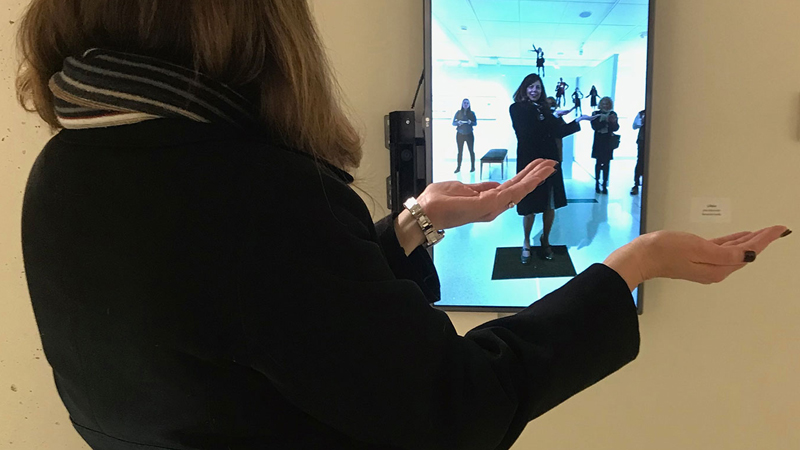 Lilliput
Interactive video installation
In this playful interactive installation, viewers approach a video mirror to find themselves infested by tiny versions of previous viewers. In their attempts to catch or move these little gnomes, the present viewers simultaneously see and lose themselves, becoming landscape, environment, and architecture for the tiny ghosts. While so engaged, their own video presence is being recorded, ready to hop down onto unexpected viewers in future visits.