Biography
Jean-Philippe Côté is an artist based in Montreal (Québec, Canada). His visual and interactive work is always driven by algorithms. Using open source software and pieces of "obsolete" hardware, he puts together interactive installations that bring back a sense of tangibility to this otherwise artificial, virtual and augmented world of ours.
Jean-Philippe leverages his early years as an award-winning developer to devise algorithmic approaches to creating art and re-shaping reality. This makes him a respected contributor to the open source community, especially in the fields of creative coding and physical computing.
His subject of choice is the human face which he usually draws using micro or macro line segments. While figurative, his work challenges perception. The viewer's brain is asked to fill in the gaps and one often needs to change his point of view to fully appreciate the work.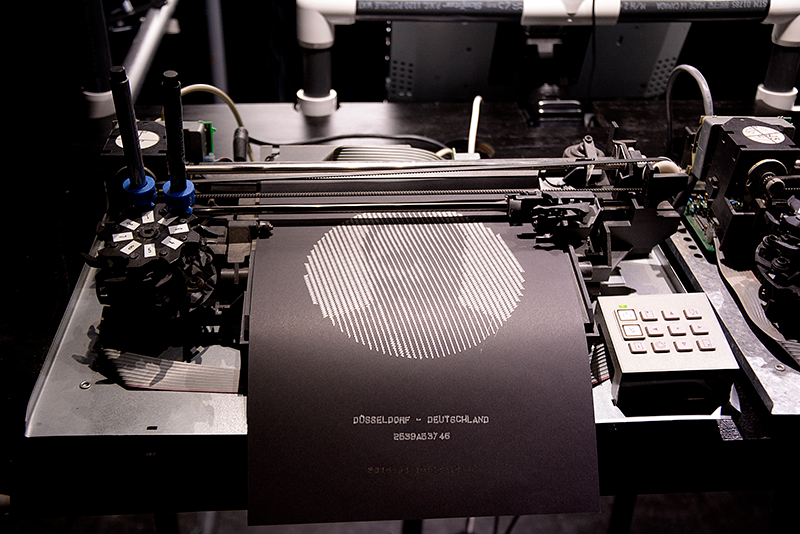 Yöti
Interactive Installation
Yöti is an automated portrait artist that uses salvaged 1980s pen plotters to draw, on actual paper, the likeness of participants using algorithmically-generated squiggly lines. From up close, the portraits look like an abstract collection of linear markings. However, from a distance, the lines clearly reveal Yöti's interpretation of the visitor's visage.
Yöti can be thought of as a deconstructed photobooth. Just like the good old analog photobooths, Yöti takes a few minutes to draw a portrait. During this time, visitors can witness their face slowly being drawn on paper by the plotters. The installation invites the visitor to reconsider our relation to anticipation and immediateness. This feels particularly relevant in these times of instant gratification through selfies, SnapChat and Instagram.  By purposefully using « outdated » technologies, the installation also questions our relation to obsolescence, ephemerality and permanence. It also takes interest in our rapport to the physical world. All participants leave with a physical object: a piece of paper bearing their portrait. Virtual, artificial and augmented realities are all fine but sometimes it just feels good to hold on to an actual, tangible object.
All sessions by JEAN PHILIPPE COTE