Biography
Lee, Chia-Hsiang (Jason Lee) is a technology art engineer, and PhD student at National Taipei University of Technology Graduate Institute of Electrical and Mechanical Technology. Jason is also a Lecturer at National Taiwan University of Arts, Department of Multimedia and Animation Arts. His main research field includes interactive systems development, innovative value-added digital content, digital interactive art, interactive multimedia design, wireless applications, mobile device applications, interactive control system design, creative learning content design, mechatronics applications.
Early he works at plant instrumentation and control system programming, website systems programming, digital content management system development and digital archives project. Currently he engages in digital art and interactive art education promotion, and integration of interactive system development and application, and also teaching work in workshops.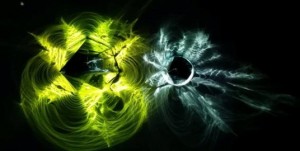 ARTWORK
"Exception Scene"
Lee, Chia-Hsiang
Taiwan
LINK TO THE ARTWORK:
https://www.dropbox.com/sh/v9muxv6tz6mgcm9/AAA7ANCuopVloYxQ-nSTMf7da?dl=0
ARTWORK DESCRIPTION:
In this interactive installation, participants can perform simple conical mirror origami with paper and place it in front of the projection mapping; forms charge a new life, changing its color and texture, using Kinect and programming.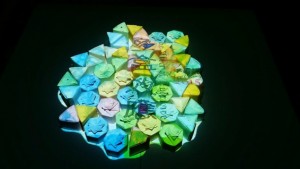 ARTWORK
"Boxlet"
Lee, Chia-Hsiang (Jason Lee)
Taiwan
LINK TO THE ARTWORK:
https://drive.google.com/file/d/0B3JrtyoV_TZJamxUelA3bEw5VkU/view
ARTWORK DESCRIPTION:
Pixel is the smallest unit of image in the digital image. In origami field, each shape of origami box is the basic unit, such as from triangle box to polygon box. If we want to put origami boxes together into a picture, we need to make many different unequal side polygon origami boxes. we have to find a proper ratio of folding line to let the button side of box diverse into a point. It is a challenge to implement this goal.
Boxlet is the smallest unit of origami image. Many boxlets group into a big origami image. People can rearrange these boxlet on the table, the depth camera sensor will detect the position of the box, and the projector will project the part of the digital image onto the boxlet according to the boxlet area. What kinds of creative are there between boxlet (boxel) and pixel? Let's make an exploration.
All sessions by Jason Lee