Biography
Hye Yeon Nam is a digital media artist and HCI designer exploring how technology can improve our interactions with other agents – humans, robots, or nature. She foregrounds the complexity of social relationships by making the familiar strange and interpreting everyday behaviors in performative ways. Hye Yeon has participated in exhibitions, festivals, and showcases at ARS Electronica Center, Smithsonian National Portrait Gallery, Asia Society Texas Center, Japanese American National Museum, Times Square, Eyebeam, Conflux festival, D.U.M.B.O. Festival, the Lab in San Francisco, Festival Internacional de Linguagem Eletronica (FILE), SIGGRAPH, CHI (Computer-Human Interaction), Tangible, Embedded and Embodied Interaction (TEI), International Symposium on Electronic Art (ISEA), Creativity & Cognition (C&C), and several festivals in China, Istanbul,Ireland, the UK, Germany, Australia, Denmark, and Switzerland. Her work has been broadcast on the Discovery Channel and LIVE TV show Good Day Sacramento, published in Leonardo Journal and featured in Wired, We Make Money Not Art, Makezine, Business Insider, Slashdot, Engadget among other publications. She is currently an associate professor of digital art at Louisiana State University.
Brendan Harmon is an assistant professor of landscape architecture at LSU's Robert Reich School of Landscape Architecture. Brendan's work aims to ground design in spatial science by seamlessly integrating geospatial modeling into the creative design process through technologies such as tangible interaction, digital fabrication, and virtual reality. He co-designed Tangible Landscape, a tangible interface for geospatial modeling. His publications include a book, book chapters, and papers on tangible interaction, geospatial modeling, and digital design. He has given conference talks, workshops, and demos at venues such as ACM's Computer-Human Interaction (CHI) conference, Tangible, Embedded and Embodied Interaction (TEI) conference, the Royal Geographical Society, and the World Bank.
ARTWORK
Contingent Dreams
Installation
Machines are everywhere. They are working for us, listening to us, and sometimes even spying on us. With the isolation of the pandemic as people try to reconnect, machines are becoming more deeply embedded in our everyday life than ever before. As algorithms, machine learning, and computer vision systems develop, machines are getting smart enough to see things, understand logic, and predict situations. With increasing automation, more and more people are concerned about machines taking their jobs. As people speculate on the future of technology, their visions tend to be grim and dystopian. Sinister depictions of androids and AI abound in popular culture. Through Contingent Dreams we ask questions about our fundamental relationship with machines. Are they simply tools or do they have agency? Are they servants or peers, collaborators or competitors, friends or enemies?
In Contingent Dreams, the robot and the artist collaboratively create abstract drawings in ink. The media and mode of the performance inspire feelings of longing and acceptance, of control and romanticization, of isolation and belonging. In the work, machines are key parts of both the process and outcome. The artist and the machine influence each other in those works. These works are not meant to define our relationship with machines, but rather to open it so that everyone can interpret and interact with machines in their own way.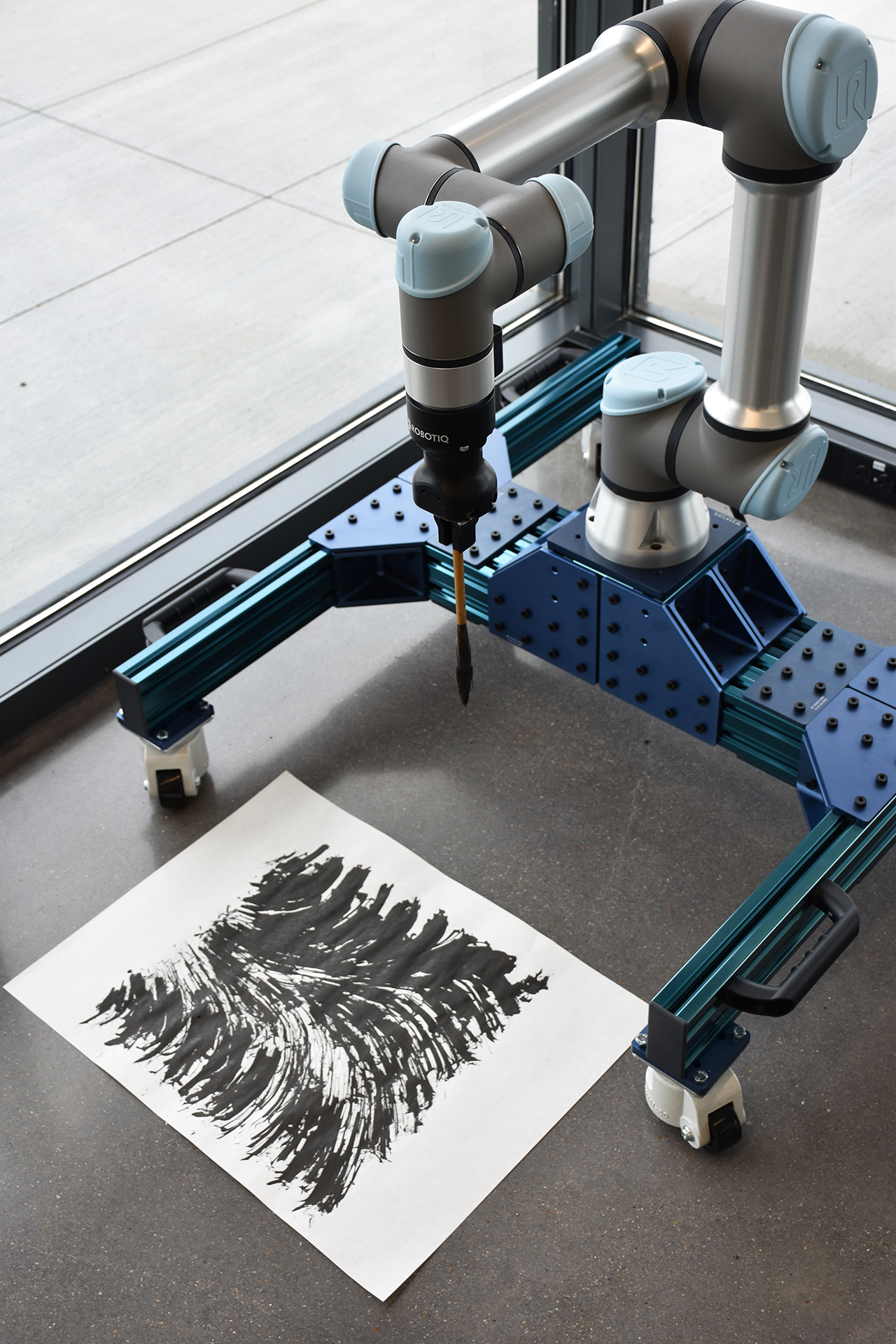 Link to artwork: