Biography
Chris Cheung Hon Him (artist name: h0nh1m; b.1983) is an artist known for installation art and audiovisual performance whose artistic expression depends upon electronic, sound, image and creative technology in New Media. The artistic practice of h0nh1m reflects his beliefs in Chinese Philosophy and his recent works blending ancient and futuristic ideas to create immersive soundscape, generative and data art. He always exploring new medium and finding aesthetic in technological intervention. He founded XCEPT (previously XEX) and XCEED in 2008, the collective works have been showcased worldwide and the creations won him awards in the Reddot, TDC, GDC11, A' Design, Golden Pin, Design for Asia awards and New York Art Director Club Young Guns 11. He received the Young Artist Award from HKADC and the Young Design Talent Awards from HKDC in 2010 and 2011 respectively. In 2014, he was appointed as the Artistic Director and Curator of the 1st HK-SZ Design Biennale, then he was invited to be the guest speaker of Business of Design Week in 2016. He initiated the "RadianceScape" project back in 2014, the work was selected in various international festival like the Ars Electronica, FILE Festival and the live performance toured in Sónar Festival, WRO Art Biennale and Patchlab Festival in 2017. His latest soundscape installation "Prismverse" and "CarbonScape" gain spotlight in international media like CNN Style, Mashable, Wired, Fubiz, Design Milk and CreativeApplications etc.
ARTWORK
No Longer Write – Mochiji
Installation / Net.Art 
Powered by artificial intelligence's Generative Adversarial Networks (GANs), the collected works from ancient Chinese Calligraphers, including Wang Xizhi, Dong Qichang, Rao Jie, Su Shi, Huang Tingjian, Wang Yangming, as input data for deep learning. Strokes, scripts and style of the masters are blended and visualized in "Mochiji", a Chinese literature work paying tribute to Wang Xizhi. Wang is famous for his hard work in the pursuit of Chinese calligraphy. He kept practicing calligraphy near the pond and eventually turned the pond for brush washing into an ink pond (Mochi). The artwork provides a platform for participants to write and record their handwriting. After a participant finished writing the randomly assigned script from "Mochiji", the input process is completed and the deep learning process will begin. The newly collected scripts will be displayed on the screen like floating ink on the pond, and slowly merge with other collected data to present a newly learnt script. The ink pond imitates process of machine learning, which observes, compares and filters inputs through layers of image and text, to form a modern edition of "Mochiji".
Nowadays, we are switching from writing to typing. The significance of handwriting is fading away with the rise of advanced technology. It is beyond doubt that technological advancement and Artificial Intelligence might take calligraphy to a new height, yet the authenticity of handwriting is more than recognition, preservation and simulation. Calligraphy is a visual and tactile record of the writer. It tells our personality by capturing the feelings, emotions incurred when we write. Whether these intrinsic values can be learnt and generated by AI worth more discussions.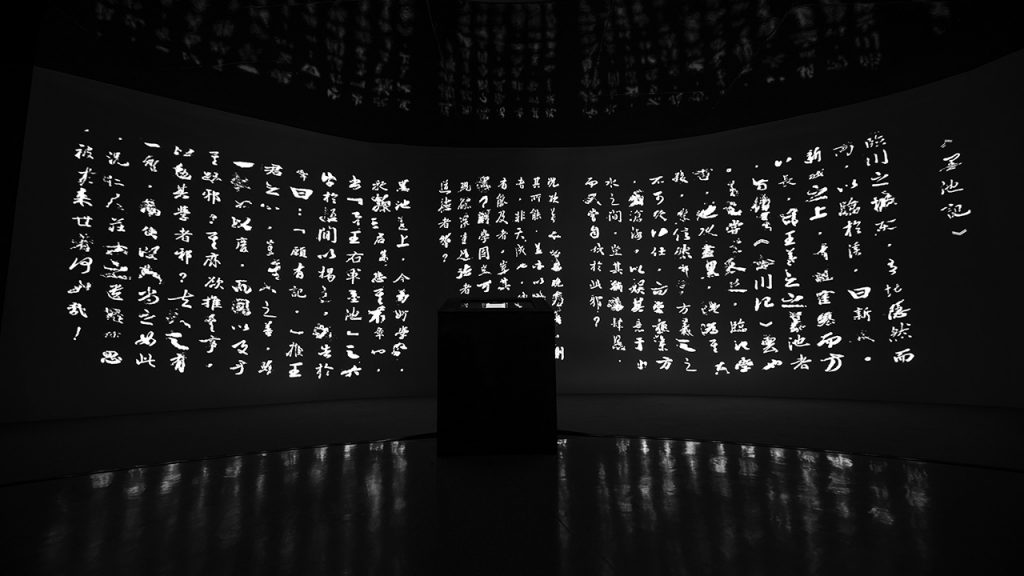 Link to artwork: