Biography
Carolin Liebl and Nikolas Schmid-Pfähler have been working as an artist duo since 2012. Both graduated 2017 with distinction from the Hochschule für Gestaltung Offenbach. In 2018 the duo realized their third solo exhibition "WIR|ES," at the CADORO – Centre for Arts and Science in Mainz. Liebl and Schmid-Pfähler, together with nine other artists, opened 2019 a joint studio. It is available for artists of various genres, serving as a platform for the exchange of practices. The duo was the EASTN-DC Artists-in-Residence at Cardiff Metropolitan University (UK) in 2019. Liebl and Schmid-Pfähler were 2020 awarded the scholarship of the Kunstarkaden Kempten with a residency during which they realised their fourth solo exhibition. Also this year they received the EMAP / EMARE grant as Artists in Residence at FACT Liverpool. Incorporating elements of sculpture, the kinetic, robots, and installation, the pair's work deals with the effects of technological development on the aesthetic and social aspects of human and nonhuman life. Their medium—technology—is both a carrier of social convention and a pictorial material. Their objects expressing different energies examine the nature of electrical energy and the self-perception of humankind in relation to it.
ARTWORK
REMOULD
Installation, Robotic Art
REMOULD (2020) is an installation that critically examines the possible and speculative present and future of dealing with plastics. A plastic extruder built into a robot transforms plastic granules into anamorphic objects, which have a plump, glossy surface right from their birth. As the material swells from the robots' organs, it curls and warps until it cools and hardens in its final shape. The robot spreads these artificial pieces around the exhibition space like virtual brushstrokes. He carries around a certain amount of granules in a storage bubble, which needs to be refilled from time to time. These plastic granules are made from collected 3D-print-waste (PLA), which is crushed earlier by a DIY shredder. All objects created during an exhibition will also be shredded and serve as raw material for the next time, creating an (almost) closed loop. To see how molten plastic is brought into a new form expands the perception of this material, which is otherwise only present in product form. An intuitive and aesthetic experience of the material leads to a greater awareness and interest in the current environmentally harmful use of plastics.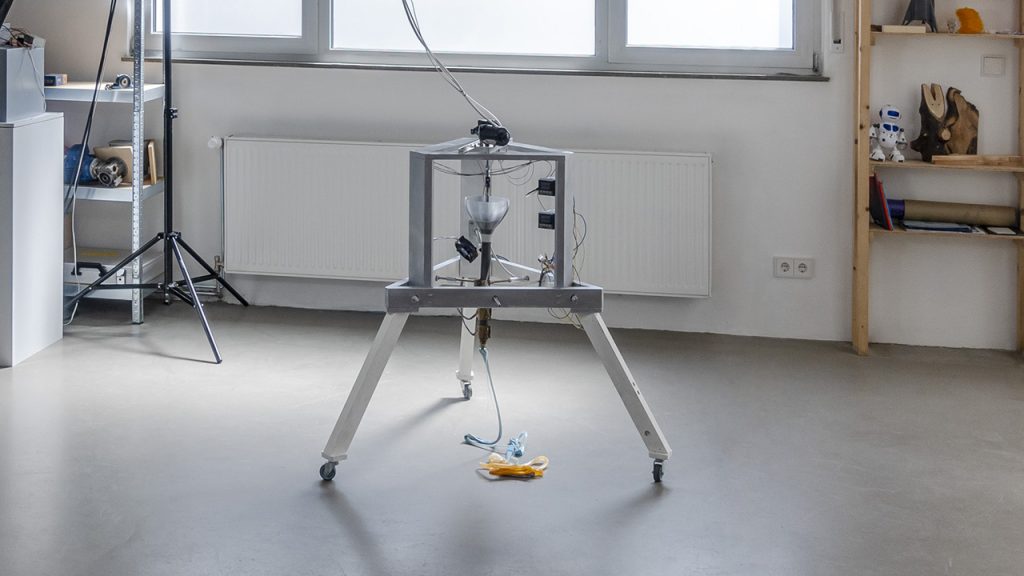 Link to artwork: