Biography
Four team members of CINEMA-360 each have their expertise: Jason (Lee, Chia-Hsiang) is a professional programer and having years of experience in creating interactive installations; Teresa (Chuang, Yuan Hsun) is focus on the research of contemporary media art. In recent years, she has worked closely with local farmers and presents the beauty of agriculture with new media and design techniques. Zer-Son, a professional movie director and photographer for more than 20 years, is exploring the innovative story-telling, camera movements and visual semiotics for 360 VR media. Jacky (Chang , Jui-Chin) is a professional 3D animator. He challenges the traditional 360 filming by post-producing with animations and visual effects.
The team of CINEMA-360 is exploring the 360 films as a media that could provide audiences with better understanding, richer experience and more fun.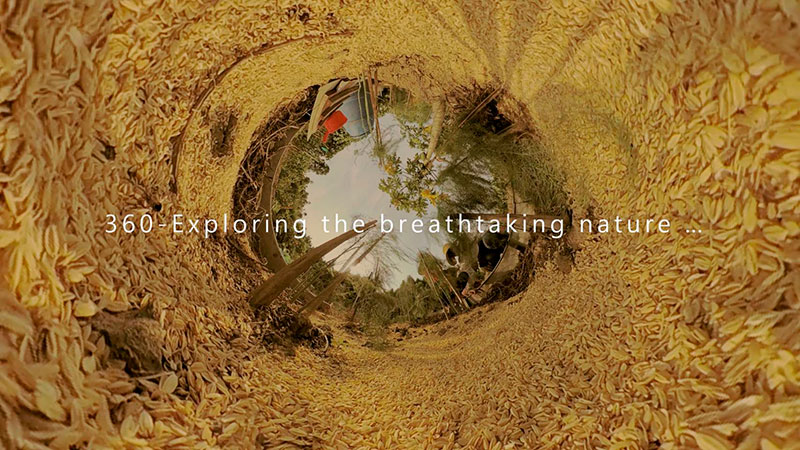 "From Land to Heart" 
VR Installation
"From Land to Heart" is an innovative VR creation. This work is filmed with a 360 camera plus 4K professional devices, and post-produced with vivid animations and rich visual effects. In this film, we experiment variety effects, such as sounds, lights, the movement of characters etc., for guiding audiences' attentions and providing better storytelling in the 360 viewing environments. The low viewpoint is taken for presenting the humble attitudes that a human being is not bigger than the stone. The audiences are allowed to immerge themselves in this lovely virtual farm and enjoy the introduction about how organic farming works. Moreover, the animations and visual effects are enhancing the scenes of storms, growing of vegetables and roots beneath the earth. It is not only increasing the educational functions of this work, but also providing the audiences with a breath-taking VR experience.