Biography
Marco Barotti is a media artist based in Berlin. After music studies at the Siena Jazz Academy, he began merging sound with visual art. His work is driven by a desire to invent an artistic language in which a fictional post-futurist era is expressed through kinetic sound interventions in natural and urban environments. His installations merge audio technology, consumer objects and waste into moving sculptures triggered entirely by sound. The primary focus of his work is to create a "tech ecosystem" that plays with resemblances to animals. These artworks serve as a metaphor for the anthropogenic impact on the planet and aim to make people aware of environmental issues. His work has been exhibited internationally in: Ars Electronica (Linz) Saatchi Gallery (London), Futurium (Berlin), Polytech Festival (Moscow), Fact (Liverpool), Wro Art Center (Wroclaw) NGBK Gallery (Berlin), Würth Museum (La Rioja) Emaf (Osnabrück), Lisboa Soa (Lisbon), Nuit Blanche (Brussels), Platoon (Mexico City), Urban Lights Ruhr (Hamm), and List í Ljósi Light Festival (Iceland)
ARTWORK
The Egg
Kinetic Sound Sculpture, API data driven, sonification, natural rubber design, infrasound, 2019
Ten thousand years ago, there were 1 million people living on the planet, fifty years ago there were 3 billion of us and, by the end of this century, we are estimated to reach a population of 10 billion people! We have modified almost every part of our planet and, as we continue to grow, our need for vital resources increases exponentially. We human beings are the main force behind every global problem we face.The Egg is a kinetic sound sculpture that questions the impact of overpopulation. Driven by real-time data generated by the Worldometer, an algorithm recording births, and deaths. The sculpture constantly changes its shape.  The data produced by the Worldometer is converted into infrasound. These types of audio frequencies are too low to be heard but powerful enough to drive the subwoofer to produce movements, air pressure, and sound vibrations to interact with the flexible membrane of the structure. This creates unpredictable patterns that continuously reshape the sculpture. The Egg is made out of natural rubber, a high-tech latex material produced from tree bark.
Credits: The Egg is a project created and produced by Marco Barotti Co-produced by Dystopie Festival, Tokyo Biennale, and Bildstörung Festival assistant: Alex Blondeau programming: Pim Boreel text: Anna Anderegg Supported by: Cycling '74  and  Worldometer.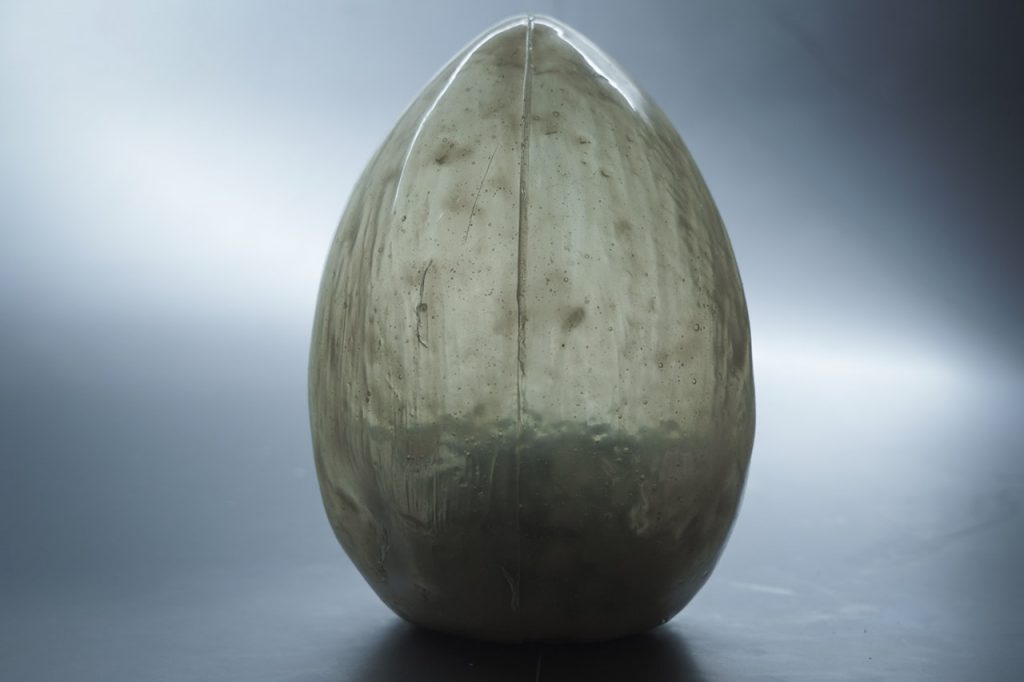 Clams
Kinetic installation, 2019
In nature, clams are detectors of pollutants; they serve as tiny filtration systems. Inspired by this natural phenomenon, Marco Barotti presenting his work Clams, a kinetic sound installation triggered by water quality. Real-time data is streamed by a sensor and converted into an audio signal. The audio signal generates a live evolving soundscape which initiates the opening and closing movements of the Clam sculptures. Sound and motion unite to create an experience that allows the audience to see and hear the water quality in real time. The Clams sculptures are made from recycled industrial plastic waste. The artwork intends to raise awareness about water and plastic pollution.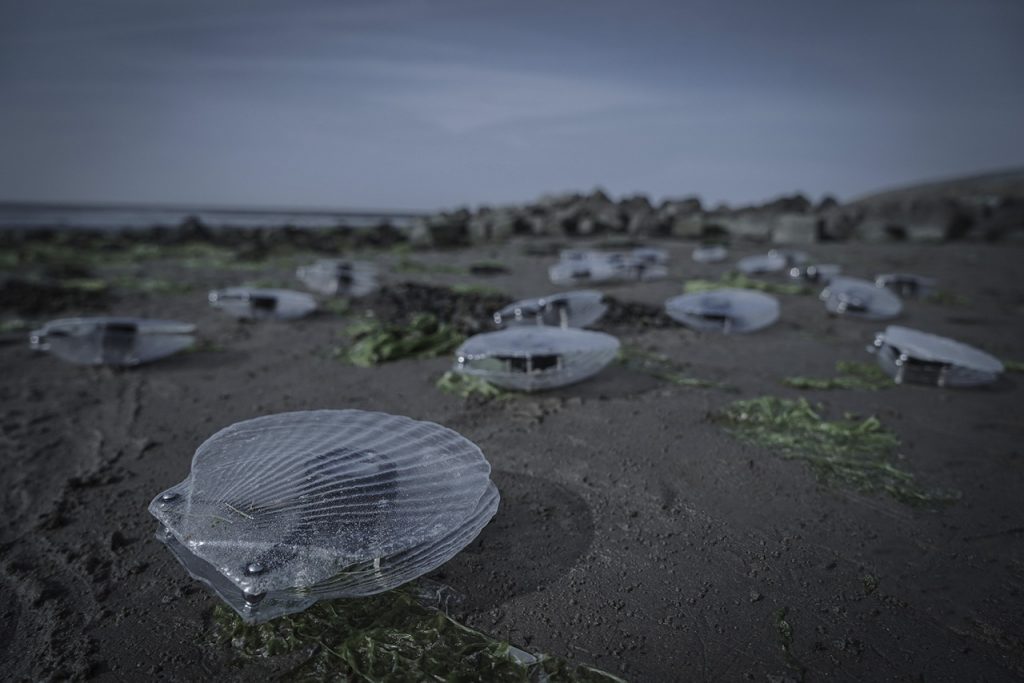 The Woodpeckers
Kinetic installation, 2018
transform in real time the invisible radiations used for mobile communication and wireless technology into audible and visible drumming patterns. The sonic result is a generative acoustic composition which undergoes constant transformation. A live soundscape which resonates as an invading drum ensemble into urban and natural environments.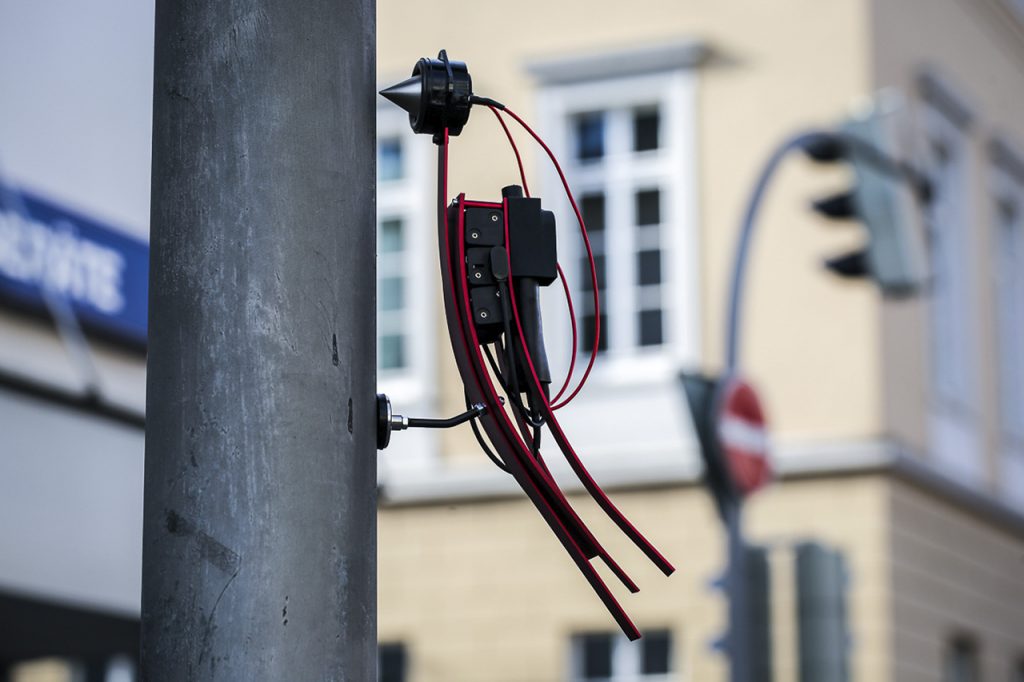 Links to artworks:
The Egg
https://www.marcobarotti.com/the-egg
Clams
https://www.marcobarotti.com/Clams
The Woodpeckers
https://www.marcobarotti.com/The-Woodpeckers